Services
Is to give the final paint finish to articles provided by our customers. Finishing's that range from a coating of color to an application of texture for an aesthetically visual finish.
We apply the finished coat with powder.
Advantages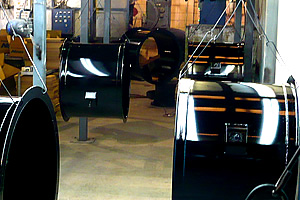 The powder coating emits a near zero percentage of environmentally contaminant compounds.
The powder coating can produce a thicker coat on the piece without any drips or runs during the painting process.
You can easily achieve effects in certain ranges of finished painting. You can also achieve a higher gloss finish, semi-gloss, matte, pearl finish, transparent and more.
Some of the more attractive advantages are the excellent resistance to heat, impact and abrupt changes in temperature.
You can achieve textured finishes, finishes that help hide imperfections.
Continuous Production System
Our continuous system allows greater production in less time than any other coating system; this is why we are committed to delivering the finished product at the time agreed upon. We provide service no matter the number of pieces to be painted; this can range from a just one specific piece to a production of more than 1000 pieces continuously.
Areas of application
Automotive.- In the automotive industry, powder coating is used for brackets, automotive accessories, and more.
Appliances.- Some of the items that have this type of coating are washing machines, microwave ovens, water heaters, vacuum cleaners, air conditioners and more.
Items for the home.- Among these items are blinds, windows, moldings, chairs, decorative items door handles and hardware.
Office items.- File cabinets, metal desks, chairs, shelves and more.
There are an endless number of items with different finishes; this type of coating is applied to different kinds of metals and different kinds of items.